Aged balsamic vinegar from Modena: an emotion to be savored
Aged balsamic vinegar is a triumph of aromas and flavors, a real pleasure for the palate to be tasted from the appetizer to the dessert, combining it with salads or risotto as well as with strawberries and ice cream.
The real balsamic vinegar is only from Modena and on Enoteca Properzio you can find bottles that have been aged even several decades.
This is the case of  vinegar aged 50 years of Acetaia Pedroni, guaranteed DOP, which could be called the 'king' of balsamic vinegars. It is no coincidence that according to the Modena tradition, it is aged in seven different woods, a process that has made it particularly dense and highly concentrated.
The most valuable aged balsamic vinegars are only from Modena
Acetaia Pedroni also produces the balsamic vinegar aged 25 years which is a bottle not to be missed. In this case as well, the product is aged in seven different woods and is super-concentrated and dense.

Another balsamic vinegar from Acetaia Pedroni of the highest quality and ideal to combine with salads and risottos is the seven-year-old Modena IGP vinegar.
You don't know which vinegar to choose? In our online wine shop we put at your disposal various technical sheets to enable you can find the solution that best suits your needs.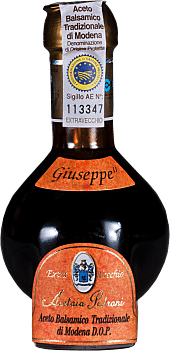 Balsamic Vinegar of Modena DOP Pedroni Extravecchio 25 ...

Balsamic Vinegar of Modena Pedroni aged 7 years 0.250 l...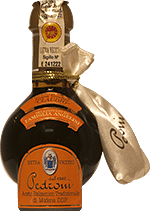 Balsamic Vinegar of Modena DOP Pedroni Extravecchio 50 ...