Sassicaia Tenuta San Guido 2015 0.75 lt.
Only 1 left
Availability: In stock
€589.00
Collectible and Investment wine: promo/coupon not applicable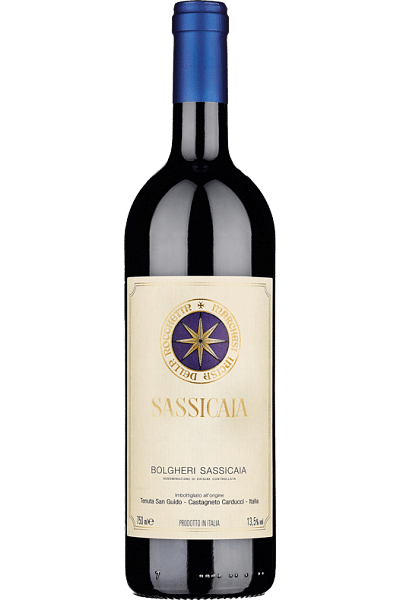 Grapes
15% Cabernet Franc, 85% Cabernet Sauvignon
The finest
Super Tuscan
comes from a blend of cabernet sauvignon and cabernet franc from the famous Bolgheri area (LI), right in the front of Tyrrhenian Sea.
Sassicaia 2015
was awarded as the best wine in the world by Wine Spectator as it hasn't happened for years. A further recognition for this great product that now envies us all over the world. A collector's item and investment in an unpredictable vintage for true wine lovers.
The colour of
Sassicaia 2015
is an intense ruby red color. The nose hints of ripe red fruits, berries, aromatic herbs and toasted almonds. The taste is austere, rich and compact. Shows a sustained body and good acid component. It progresses on notes of dried fruit, with a deep and persistent finish.
Perfect with main courses and red meat.
From taste to smell, every sense is overwhelmed by the magnificence of Sassicaia 2015. On the other hand, it is no coincidence that there is someone who has defined it "a real gem" or those who consider it "their favorite wine", and not just the online audience. Even the greatest international experts in the wine sector have declared it one of the best red wines ever. A bottle like the Sassicaia 2015 Tenuta San Guido represents a real form of investment, ready to acquire value over the years. The important thing, of course, is to keep it properly and, above all, to buy it from experts in the sector, like Enoteca Properzio, so as not to risk buying damaged and not maintained products respecting the standard fees.
Buy now a Sassicaia 2015 at the best price
As officially specified by Tenuta San Guido, it was "a very good vintage that influenced in a very positive way the wines of 2015". It is not surprising, therefore, the wide appreciation - from every point of view - for a premium red wine like this. Consequently, the price of Sassicaia 2015 is inextricably linked to the majesty of this product.
For those who love quality and good wine, for anyone who appreciates the exceptionality of Made in Italy, for all those who appreciate the top of the selection, we are in the presence of one of the greatest Tuscan creations. Each
review on Sassicaia 2015
will tempt you and show you how such spectacular red wines are an exception... The important thing is to know how to immediately seize the opportunity to buy at least one bottle and keep it for a special occasion!
Product Code: 002048
A unique wine cellar
We count more than 11,000 bottles, of which more than 1,000 are very rare
Secure Payments
Reliable and secure online payments.