Sassicaia Tenuta San Guido 2016 0.75 lt.
Availability: Out of stock
Collectible and Investment wine: promo/coupon not applicable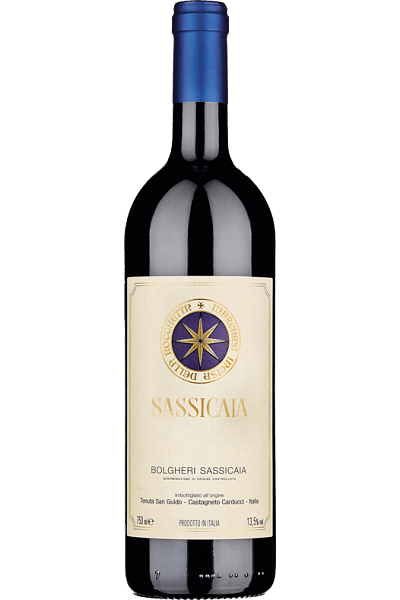 Grapes
85% Cabernet Sauvignon, 15% Cabernet Franc
The 2016 is a classic styled Sassicaia with wonderful freshness, firmness and finesse. Rich in floral and currant aromas as well as the dense and compacted palate of dark fruits and fine tannins.
Sassicaia 2016
develops wonderfully growing in texture and in flavor with every minute in the glass.
To match with red meat and first courses of pasta of Tuscan tradition.
The top vintage that got
100/100 points by Robert Parker
. A historic piece for collection and investment not to miss.
Born from the combination of Cabernet Sauvignon and Cabernet Franc, Sassicaia 2016 is a truly sublime red wine, which anyone who loves good wine cannot fail to appreciate. Purity and intensity are two of the main characteristics of this collectible and investment wine with unmistakable scents. Once you taste a glass of Sassicaia 2016, in fact, you never forget!
From the color - so deep and enchanting - to the fragrance - delicate but decisive - every nuance of this bottle reflects 100% the excellence of Tenuta San Guido. It is such a premium fine wine that it is amazing both with red meat dishes and with first courses, such as pasta and rice. Its structure, in fact, manages to combine perfectly with any menu, from the most refined to the least demanding.
Buy now the Sassicaia 2016 at the fixed price
As for the price of Sassicaia 2016, it is directly proportional to the quality of the product. By purchasing a Sassicaia Tenuta San Guido 2016 you are aware of winning a masterpiece of the wine sector that over the years will only increase its value. Fine wines like this are, without a shadow of a doubt, an undisputed form of investment and are not easily found on the market, especially the online one... Reason why turning to a trusted wine shop is an essential diktat in order not to incur unpleasant surprises! Indeed, in this case the only surprise admitted is related to the wonder and amazement one feels when tasting a label like this.
It may be for the bewitching color, for its fruity scents, for the indelible notes or for the perfectly balanced tannins, once you have tasted such a wine it is impossible not to recognize its thickness of the highest level. Any review of Sassicaia 2016 will only confirm what has already been described, that is to say the purity and magnificence of this fantastic creation.
Product Code: 354656463636389
A unique wine cellar
We count more than 11,000 bottles, of which more than 1,000 are very rare
Secure Payments
Reliable and secure online payments.