Vega Sicilia Unico 2002 0.75 Lt.
Only 2 left
Availability: In stock
Collectible wine: promo/coupon not applicable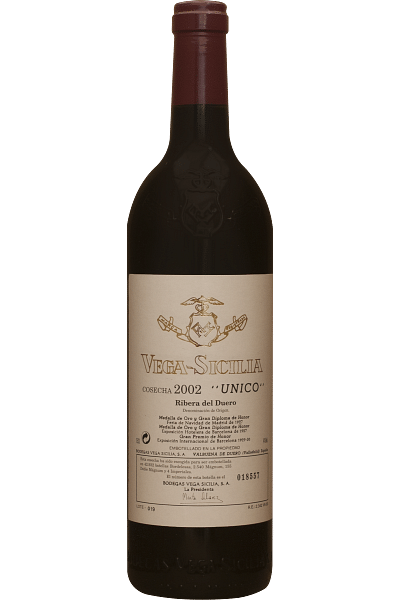 Grapes
93% Tinto Fino, 7% Cabernet Sauvignon
One of the most important amazing labels from Spain is the Vega Sicilia Unico.

History of Vega Sicilia Unico

The history of this amazing wine goes back to 1864 thanks to Don Eloy Chaves. He imported from France the Cabernet Sauvignon, the Malbec and he put in this amazing wine a typical grape from Spain, that is the Tempranillo. This grape is very strong so it needs to be aged for 7-8 years in French barrique.

Taste of Vega Sicilia Unico

Now we will analyse this amazing red wine together, starting from the color that is a very clear ruby red.

Put the glass under our nose, from the left to the right side. Very strong red fruit: plum, a little bit of tobacco and cinnamon.

Proceed with a small sip. It's amazing in the mouth, really long lasting taste: we can taste red fruits as cherries. It's still a young wine, so it's better if you wait another 4-5 years before drinking it. It's a wine you can save easily 50-60 years without any problem. This Spanish red wine is considered as a Chateau Lafite from this country.

Product Code: 001823
A unique wine cellar
We count more than 11,000 bottles, of which more than 1,000 are very rare
Secure Payments
Reliable and secure online payments.