Sassicaia Tenuta San Guido 2010 0.75 lt.
Only 1 left
Availability: In stock
Collectible and Investment wine: promo/coupon not applicable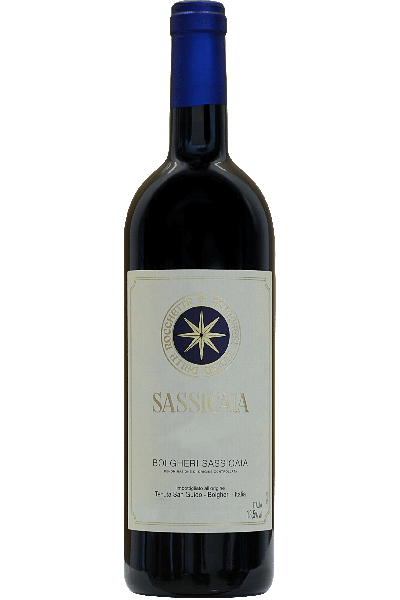 Grapes
85% cabernet sauvignon 15% cabernet franc
The great Mario Incisa della Rocchetta dreamed of creating a purebred wine. His ideal at the time was Bordeaux. No one had ever thought of making a "Bordeaux" wine in Maremma, an unknown area from a wine point of view. The 1968 vintage was the first to be put on the market, with a welcome worthy of a Bordeaux Premier Cru. From then on, the legend of Sassicaia was a path full of international recognition, thus creating one of the most powerful Italian legends and brands in the world.
Sassicaia 2010
is an incredible vintage for Tenuta San Guido.
The colour of Sassicaia 2010 is an intense red. Full-bodied with a rich nose of BlackBerry, Plum, cedar, mocha, spice and vanilla, very well structured and incredible balance, dry on the palate, with exceptional length and an almondy finish.
To combine with game and red meat in the first place.
Sassicaia 2010 is probably one of the few wines in the world that needs no introduction. It is, in fact, a collectible and investment wine that is the fruit of the skilful combination of Cabernet Sauvignon and Cabernet Franc. Each step of the processing and production of this masterpiece is constantly followed and monitored.
As reported by Tenuta San Guido, the wine is aged in French oak barriques for two years and is subsequently marketed after a period of aging in glass.
Sassicaia 2010 review
If you were to define a bottle like this in two words, they would surely be perfection and ecstasy. Perfection because every sip gives an intense 360​​° pleasure, ecstasy because every sense is awakened and captivated by its fragrances. Tasting a Sassicaia 2010 means tasting one of the best wines in the world, award-winning by the top experts in the sector and highly appreciated by the public all over the world. On the other hand, there is no review on Sassicaia 2010 that does not confirm its superiority.
This is a premium red wine that has received important acknowledgments over the years, one among all that from Wine Spectator, and Enoteca Properzio - always careful to guarantee the top of the top to its customers - could not fail to propose it among its bottles!
Two tips to savor it at its best: serve it at a temperature of about 18 ° and combine it with red meats. Success is guaranteed!
Product Code: 001541
A unique wine cellar
We count more than 11,000 bottles, of which more than 1,000 are very rare
Secure Payments
Reliable and secure online payments.